Congratulations on planning to marry! You've done your homework and other arrangements, now you need a car for the wedding and looking for the average cost of renting a car for a wedding in Ghana. Well, you are in the right place. At Rental Drive, we offer the best cars at competitive prices with superb customer support.
The wedding day is an unforgettable moment on the calendar for the bride and groom. Therefore, they just want that day to be 'perfect'. Regardless of your budget for car rentals, it is likely to be more or less depending on the following factors;
The car Types. The vehicle you would need for the occasion matters a lot regarding the pricing. Whether it's a fancy sports car or an SUV.
Who's driving? Are you having your own driver or you would use the services of the company's drivers?
From your pick up to your drop off. The distance and time you cover are used to determine the amount you are to pay.
Whether to refuel is part of the cost involved.
Book Your Next Car Rental Now with RentalDrive
Notwithstanding, depending on the number of days you want to use the vehicle. You can budget for GHS 500 to GHS 2,000 to overall your expenses relating to driving, fuel and decoration for the car.
Renting Your Wedding Car in Ghana? Quick Steps to Follow.
Beauty lies in the eyes of the beholder. In view of this, car renting companies leave you to decide on the type and brand of car you desire. Here are some quick steps to help you get a wedding car:
Visit the rental company. Seeing is believing, as the saying goes. It's best you look out for the cars for you to select for the occasion.
Inspect the car thoroughly. To avoid controversies, take the time to inspect the vehicle you have selected.
Read and understand their terms of service. Ask questions on terms you don't understand for more clarifications.
Be sure to do this about a month to the said date for the occasion to avoid delays and other inconveniences. This will help you plan, prepare, and adequately in renting a car for the wedding in Ghana.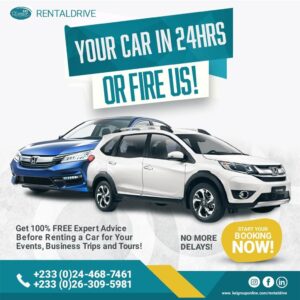 Need a car for your airport pickup, business meetings, wedding, tourism and other events? Kindly click this link https://bit.ly/2HVfSn9 to chat with a LIVE PERSON on WhatsApp or call for FREE Car Rental Advice, Tips and Quotes NOW.
#RentalDrive
#YourCarIn24HrsOrLess
#FastCarRental
#StressFreeLuxury
#SafeAndReliableCars
#ProfessionalCarRentals