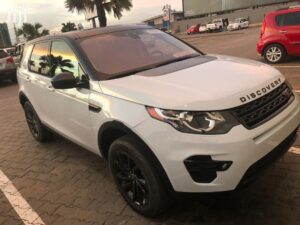 How Much Does Car Rental Cost In Accra On Average?
Looking to rent a car in Accra and wondering, How Much Does Car Rental Cost In Accra On Average? Well, not very much. But the car rental cost in Accra very much between the company you chose, the car you want, and whether you want to use the car within and outside Accra.
All these crucial factors play a role in determining the final rental price of the car you desire. The cheapest means of transport for long trips that last for a few days is renting a car. The cost of renting a car may depend on the occasion, the distance covered, the number of people involved, and the type of car.
Quote of the day
"Great things have small beginnings." – Frank Drake, English naval officer.
Before you book a car, take into consideration the mileage you are covering and the purpose for which you are renting it. Try as much as possible not to do anything that will incur extra charges from the agreement. A standard car rental in Accra costs $61, which is approximately Ghc 354.00 per day, on average.
Is it cheaper to rent a car for a long trip?
Long trips could be fun but very hectic. But then, which would you prefer? Your own car or a rented car?
Despite many considerations on rented cars such as the trip's mileage, leasing cost, fuel efficiency, how much the car depreciates with each mile, tire wear, and the price of an oil change.
Renting a car for long trips is cheaper than using your own car. Especially if you are going to spend just a few days.
Prevent the hassle of putting your car under many unfavorable conditions and get a rented vehicle for your long trips.
Where to find car rentals in Accra?
Car rentals just got easier in this digital era. Making inquiries from the internet about such renting companies in Accra is as efficient as you can think. You can likewise visit any garage near you to enquire from them if they offer rental services.
Ask your friends also, strike a deal with them, who knows? They might want to rent their cars out too.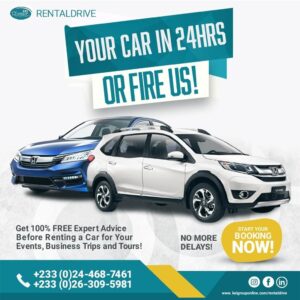 Are you ready for the responsibility that comes with car rentals? Car renting comes with responsibilities such as fuel filling, insurance, managing the car to avoid any scrap. Be ready before you go out in search of one.
Need a car for your airport-up, business meetings, wedding, tourism, and other events now? Kindly click this link https://bit.ly/2HVfSn9 to chat with a LIVE PERSON on WhatsApp or call for FREE Car Rental Advice, Tips, and Quotes.
#RentalDrive
#YourCarIn24HrsOrLess
#FastCarRental
#StressFreeLuxury
#SafeAndReliableCars
#ProfessionalCarRentals