How Long Does it Take to Return a Rented Car?
"You must take personal responsibility. You cannot change the circumstance, the season, or the wind, but you change yourself." Jim Rohn, an American entrepreneur 
They give rented cars out based on a mutual agreement between you and the rental company. Before they issue the car to the customer, they make the client sign a customer agreement form.
In the agreement form, they mandate you to comply with everything stated. This includes when you are to return the car. Your failure to return the car at the stated time will demand extra charges.
It is due time to return the rented car to the company and you just notice some damages or minor issues with the car. What do you do?
Minor damage to a rental car? Here's what to do.
Handling rented car damages is a hurdle you want to avoid. To avoid this mess and any other extra charges, get insurance. Securing insurance places you on a safer platter.
You could easily fix minor damages, but then what if the worse happens? That is where the rental insurance gets you covered from such damages. Don't wait for the worst to happen before seeking the help of insurance service.
No matter how little the damage is, do not fix it by yourself, let the professionals handle it.
why rental car insurance is very important.
Wouldn't you rather love to have nothing to pay when you damage property with a rented car? Life is good when you are safe. Consider car insurance today!
Secures expenses on damages in the car. Once the car gets damaged, the insurance covers all expenses on the car.
Secures the items affected in the damage. They take properties destroyed by the car's accident.
Secure the lives and hospital expenses of you and the victim. Should there be an incident where you hit someone with the car, the insurance secures the health expenses on the person and yourself.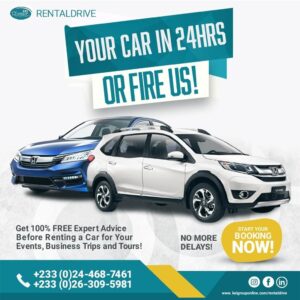 Kindly click this link https://bit.ly/2HVfSn9 to chat with a LIVE PERSON on WhatsApp or call for FREE Car Rental Advice, Tips, and Quotes.
#RentalDrive
#YourCarIn24HrsOrLess
#FastCarRental
#StressFreeLuxury
#SafeAndReliableCars
#ProfessionalCarRentals