After renting the car for your trip and occasion, what next? You want to Take Good Care Of The Car and return it in excellent condition. Most people simply don't know How To Take Care Of Cars After Rentals. Well, that is just appalling! Return it as you took it.
Here's how to take care of cars after rentals:
 Keep it clean. Returning the car clean is one of the prioritized obligations of the customer.
Get insurance.  Your ability to secure insurance gives you an advantage over other extra charges levied by the company.
Stay on the road. Know that the car belongs to you temporarily, hence, you should avoid reckless driving. And know your road rules and regulations.
Once you have insurance, you know you have peace of mind to drive the car and bring it safely in the condition that you took it.
Maintenance tips to keep rental cars safe and secure.
Do unto others as you would want others to do unto you. Maintain a rented car as though it was yours. Though you paid for it, consider the following maintenance tips to take care of cars after rentals:
Regularly check the fuel gauge for shortage. When the car runs out of fuel, you will get stuck on your way. Don't let this embarrassment come your way.
Avoid reckless driving. Safe driving should be your utmost priority. Wear your seatbelt and never lose focus on the road.
Be ready to fix any fault you generate on the car. Once you scratch the rented car, get it fixed before returning to avoid extra charges.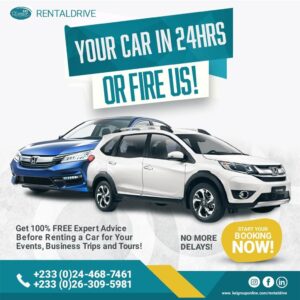 Note that before you drive any rented car out of the garage, you have thoroughly inspected its interior and exterior edifice.
Need a car for your airport-up, business meetings, wedding, tourism, and other events now? Kindly click this link https://bit.ly/2HVfSn9 to chat with a LIVE PERSON on WhatsApp or call for FREE Car Rental Advice, Tips, and Quotes.
#RentalDrive
#YourCarIn24HrsOrLess
#FastCarRental
#StressFreeLuxury
#SafeAndReliableCars
#ProfessionalCarRentals