Have you rented a car before? What kind of due diligence did you do before taking the bold step to rent the car? What are some of the Questions to Ask Before Renting a Car? Got any? You might want to look at our expert guide on questions to ask before renting a car.
"By failing to prepare, you are preparing to fail.",
– Benjamin Franklin, one of the founding fathers of the USA.
Renting a car is the best way to catch up with time and minimize expenses. Here are the top 7 Questions to Ask Before Renting a Car:
  Is your Driver's License accepted?
 What insurance do they include with the rental?
 How much does the fuel cost?
 Is the vehicle you're renting suitable for your task?
 Is the car manual or automated?
 Are the policies of the rental company suitable for you?
What is the rental's mileage plan?
Looking to rent a car that is within your budget? Look at the following guideline.
What is the least expensive way to rent a car?
"You don't have to be rich to travel well," – Eugene Fodor, violinist.
The act of renting a car alone is affordable. For a cheaper way to rent a car, then revise the following factors;
Be your own driver. Don't allow the rent company's driver to drive you
Buy your fuel. Ask the company that you will buy the fuel for the car yourself.
Select a more casual vehicle type. The fancier, the more likely you are to pay more.
Be on time for the pickup and drop off. This will help prevent you from extra charges.
Avoid extra purchases, if possible.
Maintain the condition of the vehicle as it was from pick up.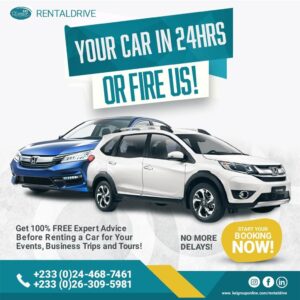 Need a car for your airport-up, business meetings, wedding, tourism and other events now? Kindly click this link https://bit.ly/2HVfSn9 to chat with a LIVE PERSON on WhatsApp or call for FREE Car Rental Advice, Tips, and Quotes.
#RentalDrive
#YourCarIn24HrsOrLess
#FastCarRental
#StressFreeLuxury
#SafeAndReliableCars
#ProfessionalCarRentals