All jokes aside, what is your favourite car in Ghana? Have you driven it yet? Have you bought it yet? Have you ever rented it yet? Well, you might want to have a taste of that car even if you have not bought it yet. This can inspire you to get started on purchasing that car.
"According to the ancient Chinese proverb, a journey of a thousand miles must begin with a single step," – John F. Kennedy, 35th US president.
Wouldn't you rather love to have a feel in your favourite ride before you get your own? Think again, it's available in any garage near you.
Your favourite car awaits you in any rental company nearby. For any brand of car, for whatever occasion, the car rental company has got you covered.
Your favourite might not be somebody's. Instead of sending someone to rent on your behalf, walk-in and book it yourself.
Book Your Next Car Rental Now with RentalDrive
Top 10 Cars to Rent and Drive.
Are you looking for the top 6 cars to rent and drive from a car rental company? Well, you are in luck! Here are your top 6 cars:
Chevrolet Spark: This 5-seater sports car is also air-conditioned for your comfort and luxury.
Toyota Yaris: This sports car is 5-seated, with air conditioning and uses petrol. Uniquely, it's automatic.
Ford Focus: This sleek sports car has a spacious boot for all kinds of items.
Nissan Altima: This turbo-engine vehicle with decent storage in the front seat for your comfort.
Chrysler 300: This front-engine rear-wheel-drive car accommodates only 5 passengers.
Ford Mustang: This sports car is 4-seated and uses petrol, with an anti-locking braking system.
Landcruiser Prado: This is one of the best cars for all your business trips and special events.
Kia Sorento: This is one of the execute suit of cars preferred by most business officials in Ghana.
Hyundai Sonata: If you are looking for a top car for your rounds in Accra, this is the best pick.
Pajero/Rolls Royce/Jaguar Cars: Looking to surprise that lovely beloved of yours, a Pajero/jaguar cars/rolls Royce will do.
All the above cars are easy to drive and manipulate. Their fuel consumption is moderate and durable. What is your list? What is your favourite car in Ghana? Want to get started on renting that car now?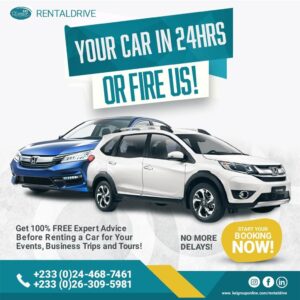 Need a car for your airport-up, business meetings, wedding, tourism and other events now? Kindly click this link https://bit.ly/2HVfSn9 to chat with a LIVE PERSON on WhatsApp or call for FREE Car Rental Advice, Tips and Quotes.
#RentalDrive
#YourCarIn24HrsOrLess
#FastCarRental
#StressFreeLuxury
#SafeAndReliableCars
#ProfessionalCarRentals