Looking to rent a car for a vacation in Ghana and wondering how much it will averagely cost you? No need to worry. AT RentalDrive, we prime our self in being your trusted advisor for anything car rental. Before we get started, let's warm your heart and mind with this lovely quote.
"I travel because it makes me realize how much I haven't seen, how much I'll not see, and how much I still need to see." — Carew Papritz, set decorator.
Are you wondering how much it's likely to cost you to rent a car for your vacation? Well, think again. Before you budget to book for one, consider answering the following questions;
How long will you be away?
How far are you going?
Are you going alone?
What's the weight of your luggage? If any.
Who will drive? You or the rental company's driver?
Will you refuel?
Any extra purchases?
Vehicle type
Your response to these questions will help in your budgeting than drawing rough figures. Don't forget to read the rental company's terms of service before booking. You should also consider your tour or vacation resort while planning to rent a car for a vacation in Ghana.
Book Your Next Car Rental Now with RentalDrive
The Do's & Don't of Renting a Car for Vacation ( or any other activity)
Consider putting the following into practice to be on the safer side:
Choose the right vehicle. Looking at where and what you have.
Inspect the car before signing anything.
Read the terms of service very well.
Obey your part of the agreement policy to avoid extra fees.
Report casualties immediately if they happen.
Desist from the following and smile while you rent.
Don't damage the car while enjoying pleasure.
Don't use the car for theft operations or allowed to do so.
Don't use the vehicles to sell items unless otherwise allowed.
Don't ignore road and safety signs when self-driving.
Don't exceed your rent limits.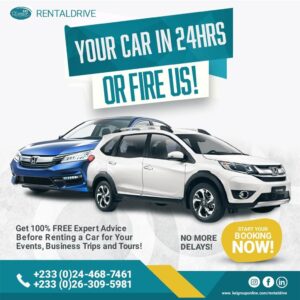 Need a car for your airport pickup, business meetings, wedding, tourism and other events? Kindly click this link https://bit.ly/2HVfSn9 to chat with a LIVE PERSON on WhatsApp or call for FREE Car Rental Advice, Tips and Quotes Now.
#RentalDrive
#YourCarIn24HrsOrLess
#FastCarRental
#StressFreeLuxury
#SafeAndReliableCars
#ProfessionalCarRentals