So, you have planned your trip and looking at how to rent a car for airport pickup in Accra? Won't you rather prefer a more stress-free way to get a rented car at your disposal upon arrival at the airport? Here is how to sort yourself out;
Book for a car. Do your booking online on your preferred rental company's website. Fill in all your needed credentials.
Confirmation mail. After booking, you'll receive a mail, containing details of your rented car.
Rental counter. Once you arrive, make your way to the arrival terminal. There, your rental company's agent awaits you to do some sign ups before issuing the car to you.
However, take great precaution to read the company's policy very well before engaging their services. Ensure you do your analysis before making a booking for your car rental for airport pickup. To get you started, you might want to follow these quick steps.
Book Your Next Car Rental Now with RentalDrive
How to rent the best car for your airport-pickup in Accra
Your needs matter when renting a car. Though not all matters much, at least the vital and most needed ones shouldn't pass you by. Here's how to know the best car rental in Ghana.
Contact many car rentals. A minimum of three companies would do. Once you contact them, look into their terms, conditions and services.
Read testimonials and customer feedback. This will help you know if the company is up to standard.
Take a stand. After all, compare your findings and decide which of them best suits your demands and needs.
Don't forget that, not all that glitters is gold, don't be misguided by sweet words and fancy pictures.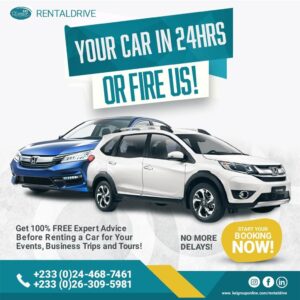 Need a rent a car for your airport pickup, business meetings, tourism and events? Kindly click this link https://bit.ly/2HVfSn9 to chat with a LIVE PERSON on WhatsApp or call for FREE Car Rental Advice, Tips and Quotes NOW!
#RentalDrive
#YourCarIn24HrsOrLess
#FastCarRental
#StressFreeLuxury
#SafeAndReliableCars
#ProfessionalCarRentals