Have you ever rent a car for your business meetings? What was the purpose of the meeting and what prompted you to rent the car? Many business people think it is all good to just charter a taxi or use public transport for business meetings.
Well, there is a limit to everything. At a point, and based on the value and importance of the business meeting, you just have to rent the car. So why in the world should anyone rent a car for business meetings?
"Delay is the enemy of progress," – Eliot Spitzer, American Politician
We both know that lateness is the last thing expected in business meetings, so why be late? That is why car rent companies are available to help you overcome the hurdle. Renting a car for a business meeting guarantees you being there on time.
You also get to choose the perfect ride for the occasion. You wouldn't want to leave a terrible impression about your company, would you?
Book Your Next Car Rental Now with RentalDrive
You get to choose any vehicle that best suits your office for the meeting. Renting a car for business meetings is more convenient and stress-free, try one. Take a look again at the real benefits.
Benefits of renting a car for business meetings
Rent a vehicle today! And enjoy all these benefits and more:
Saves Money. Renting an automobile is cheap, easy, and convenient.
Comfort. Renting a vehicle gives you more comfort than you least expected.
Saves Time. You can rely on rented cars if you want to get to your destination on time.
Freedom of movement. It entitles you to drive the rented under only one condition, bring it as you took it away. This saves you from long taxi queues and jammed public transports.
Safe and convenient. Your safety is the priority of the renting agency. Hence, they give you the best service to keep you safe.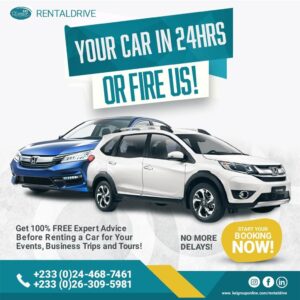 Need a car for your airport pickup, business meetings, wedding, tourism and other events NOW? Kindly click this link https://bit.ly/2HVfSn9 to chat with a LIVE PERSON on WhatsApp or call for FREE Car Rental Advice, Tips and Quotes.
#RentalDrive
#YourCarIn24HrsOrLess
#FastCarRental
#StressFreeLuxury
#SafeAndReliableCars
#ProfessionalCarRentals